Waiting with Wonder: Stephen Fisher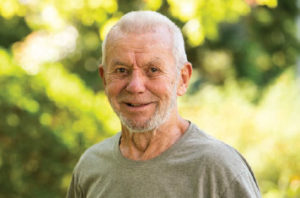 Stephen Fisher loves to write poetry. As he experienced changes due to COVID-19, he turned to the written word to express his feelings. His writing shows both struggles that nearly everyone is feeling during this pandemic and thankfulness along with appreciation for the team at Welsh Mountain Home, where he is a resident.
Everybody stopped long enough for it to get in your shoe. What is the meaning of it all? No one really knew. And so we get to see the show. It goes. It wasn't nice to my son and his wife, for they both got the virus and it wasn't nice. I cannot go see them. They couldn't see me.
He reminds us all of the importance of taking precautions, even when it isn't easy or fun. He reminds us God has a plan, even when we are not sure what that is or how we will get through times of struggle.
One wouldn't mind but it didn't quit, so I try to understand, it's that God has a purpose for everything too and so we waited with wonder. And listen to the thunder, and wonder what to do so we don't make a blunder.
After expressing frustration and hope, Stephen goes on to thank the team at Welsh Mountain Home for their protection and hard work.
But here at home. They treated us nice, chicken, potatoes and even rice. Everyone worked hard to care for us all. Even sometimes, we would have a ball. It didn't matter great or small, Welsh Mountain Home is a home for us all.
Windows to Nature: Judy Buckwalter
Another writer who resides at Welsh Mountain Home is Judy Buckwalter. Since arriving a few months ago, she has grown to love the small size of the community she has discovered. She particularly enjoys the outdoors.
I like my windows, where I can see traffic passing by, and trees and bushes that show how windy the day is. I love my daily walks outdoors, usually with a neighbor friend. I love the bench beside the goldfish pond where I chat with friends. Often I take a long walk around the huge lawn, enjoying spring flowers and the trees and bushes. There are beautiful flowers in different places, and I look forward to the small vegetable garden that I expect will soon be planted and cared for.
As with all of us, Judy has seen changes to routines and activities she enjoys during the recent pandemic but is grateful for how the team members are working to keep everyone healthy.
A few things have changed because of COVID-19, but I know the staff are doing the right things to keep us safe. They will lead us back to the best independence we'll be able to have. I like Welsh Mountain Home.